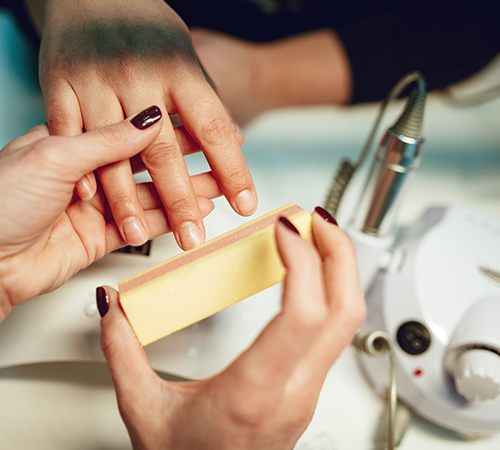 If you are looking to embark on a career as a therapist specialising in either UV Gel or Acrylic Nail Extension treatments, our VTCT Level 2 Certificate in Nail Technology is designed to equip you with the knowledge, practical skills and industry-required qualification to be able do this with confidence.
You select which system you want to train with (UV Gel or Acrylic). You will be trained and assessed within only one system. Please ensure you click to add and choose a training date for Acrylic OR Gel (not both) to avoid any delay in processing your booking. If you select a date for both, we will contact you to confirm which one you wish to attend.
Cost
£585 plus £65 registration fee
Total £650
Duration
1 day over 12 Consecutive weeks
You will receive
Acrylic Nail kit & Manicure kit
Tunic
Workbooks
Manuals & folders
Why is this qualification most suitable?
This is one of two VTCT qualifications in nail services at Level 2. Whilst both qualifications qualify learners to become a junior nail technician, this qualification allows learners to gather evidence in a realistic working evironment or real working environment without the need for fee paying clients. In contrast, the VTCT Level 2 NVQ Diploma in Nail Services requires learners to work in a commercial salon whereby assessments must be carried out on real paying clients in line with commercial service times.
What does this qualification cover?
This qualification has been specifically designed for the 16-19 age group, and will develop the knowledge, understanding and skills to prepare learners for employment as a junior nail technician. Learners will have their nail services skills assessed in a real or realistic working environment.

This qualification includes all the required elements to work effectively as a nail technician including: providing and maintaining nail enhancements, manicure treatments, health and safety and client care.

Learners will also develop their understanding and skills by selecting a number of optional specialist units which include: pedicure treatments and nail art. This qualification structure provides learners with the flexibility to develop the knowledge, understanding and skills required depending upon their designated career pathway as a junior nail technician.
What could this qualification lead to?
Career opportunities exist in a variety of contexts as a junior nail technician, including:
- Commerical nail salon
- Retail concession 'nail bar'
- Independent/self-employed/mobile/home-based settings

Whilst this qualification's primary purpose is to prepare learners for employment as a junior nail technician, learners may choose to develop their skills further by undertaking Technical Level qualifications at Level 3.