27nov10:00 am2:00 pmThe Younger Gel Art / Builder Gel Training by MaisyThe Younger Gel Art / Builder Gel Training by Maisy with North West Training Vocational College10:00 am - 2:00 pm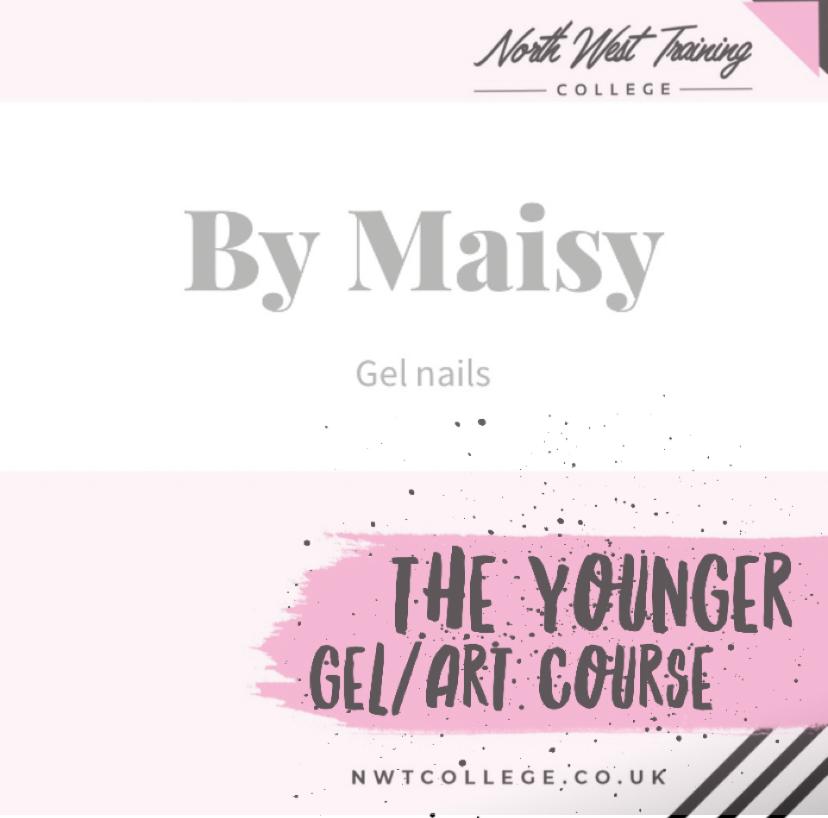 Training Course Details
Our Gel Art Nails training course teaches you how to apply a professional UV/LED cured Gel polish & Builder Gel for a long lasting high gloss finish. You will also learn how to create a range of freehand nail art techniques working with gel polish, which can be combined to create stunning Nail Art designs. This course is open to complete beginners or existing therapists, no previous experience required to attend.
Course Duration: Half day (Models Required for 11am) If you can not get a model contact Diane on 07739835894.
Time: 10.00am – 2.00pm
Dress Code: Please wear comfy  attire
Course costs: £50
What will the course cover?
Anatomy, nail disorders & diseases, health & hygiene
Workstation set-up, product knowledge
Gel varnishing & varnish/Gel removal
Gel Stockist
 Minimum Freehand nail art techniques
Nail Art
How will the course be taught?
Understanding theory and practice demonstration followed by students working on Models to practise techniques. Models will require to attend at 11am so you can produce a nice set of gel nails. If you can not get a model just let us know.
How will the course be assessed?
Observation of practical skills during the course along with oral questioning to clarify understanding. Home assessments will be rated on a scorecard.
Is the course accredited?
Accredited by Professional Beauty & The Beauty Guild. The course includes a certificate for your chosen system which will enable you to obtain liability insurance.
Time
(Saturday) 10:00 am - 2:00 pm
Future Training Times in this Repeating Training Series
29th january 2022 10:00 am
Training Course Title
The Younger Gel Art / Builder Gel Training by Maisy with North West Training Vocational College
Please Note: If paying a deposit, the final outstanding amount is due on the day of training. If you are wanting to finance this course using our 'Buy Now Pay Later' option, please make sure to select 'Full Amount' before adding to basket.